Metro Drivers' Efficient Training thanks to Transurb Simulator delivered in Medellín
The Belgian company, Transurb S.A. provided a multi-purpose training simulator for Metro de Medellín in Colombia. Thanks to the modern tool, Metro's operator training process is strengthened and optimized.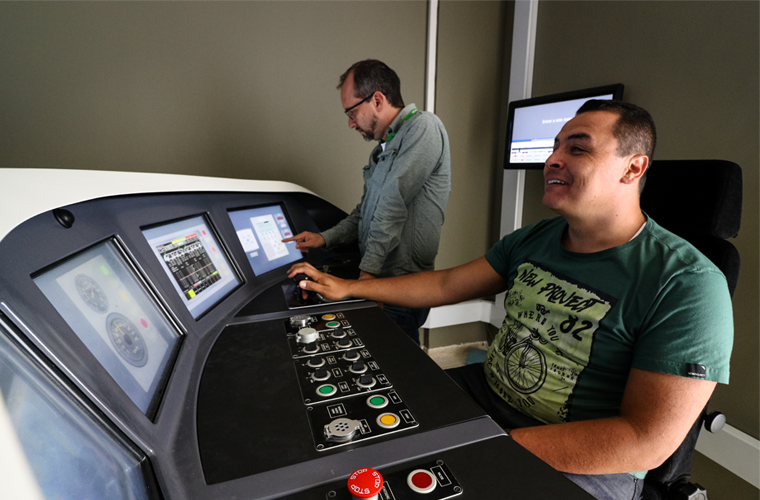 A Compact Simulator is being used to prepare trainees of Metro de Medellín (MDM) in Colombia since the end of 2018. The supplier, Transurb S.A. is specialised in simulation and advanced training solutions at the international level.
The trainees from MDM now possess a training tool that allows them to virtually execute many procedures and events faced on the Metro line. The simulator will serve to prepare the 100 aspiring drivers, which the operator receives annually.
Quality training in a state-of-the-art and realistic simulator
Simulating extreme weather conditions, keys operations, degraded mode conditions and other events of day-to-day operations are now possible thanks to the new simulator.
The technological tool serves to continuously evaluate the reaction capacity and acquired knowledge of trainees. By increasing the time and practice quality, it allows trainees to develop the skills and abilities required for the operation of the transport system. This will also be reflected in the safety management and standards-compliance for MDM.
Simulator delivered in record time for Transurb
After an international call for tenders, in December 2017, Transurb was selected to provide a simulation solution.
The culmination of the project took less than a year, from January 2018 to December of the same year, and was celebrated as a prodigious accomplishment considering the scope and the time frame.
Return of investment for MDM and minimal impact on operation activities
The optimization of the travelled mileage and cost reduction are among the most important benefits factors. It is estimated that with the implementation of the simulator, MDM saves an average of €300.000 a year. Mobilizing the rolling stock for training purposes is no longer unavoidable. Instructors can recreate the different realistic scenarios without the need to technically wear down the real rolling stock.
The customizable solution from Transurb
The hardware was completely made-to-order and conceived as the CAF and MAN trains the company possesses. Because of interchangeable panel integrated into the simulator with the same buttons as the actual driving desks, aspiring drivers can train to drive both trains.
As if they were driving a real Metro train, with the exact recreation of the system's lines and their surroundings including iconic landmarks, trainees can get acquainted with the Metro line environment.

Growing relationships between Colombia and Belgium
This partnership between a Belgian and Colombian company is an example of great ventures between these two regions.
This is the second project brought to Colombia, Transurb already delivered in 2015 a freight training solution for Ferrocarríl del Pacífico.